November 2015
"Rock And Roll Meeting" is now available for purchase at Art Metropole in Toronoto.
Click here to find out more about this publication, Art Metropole and its various programs.
July 2015
Bad Acid Shirts Avaiable on Born A Bad Seed
collaborative shirt "Bad Acid" is now available for purchase on the Born A Bad Seed webstore
Printed in limited quantities. For more information please visit:
June 2015
Levitation Vancouver
The Levitation Vancouver Psychedelic Festival held
June 4-7 at the Malkin Bowl in Vancouver British Columbia.
Printed materials available for pick up at the ASL free table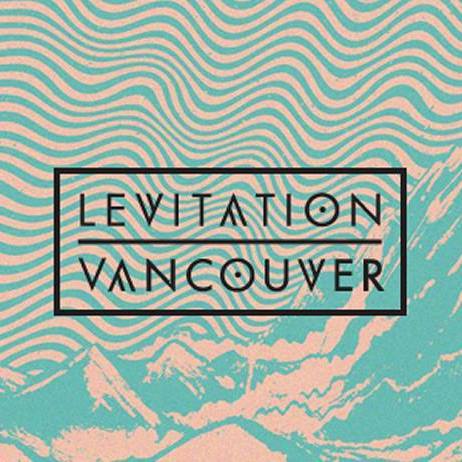 April 2015
ASL REVIEW ON PROJECT SPACE
Project Space has posted a review/account of the exhibitions "Rock And Roll Meeting" and "Nothin' Left To Lose" on their webiste blog.
Click here to read the enitre article
"I had crossed town two days in a row to get more information on the inner workings of this somewhat secret society, and both times I was left out to dry!"
ROCK AND ROLL MEETING AVAILABLE FOR PURCHASE
ASL book "Rock And Roll Meeting" is now available for purchase online from Publication Studio.
Published to coincide with the exhibition of the same name, the publication chronicles the various collected and printed works of the ASL.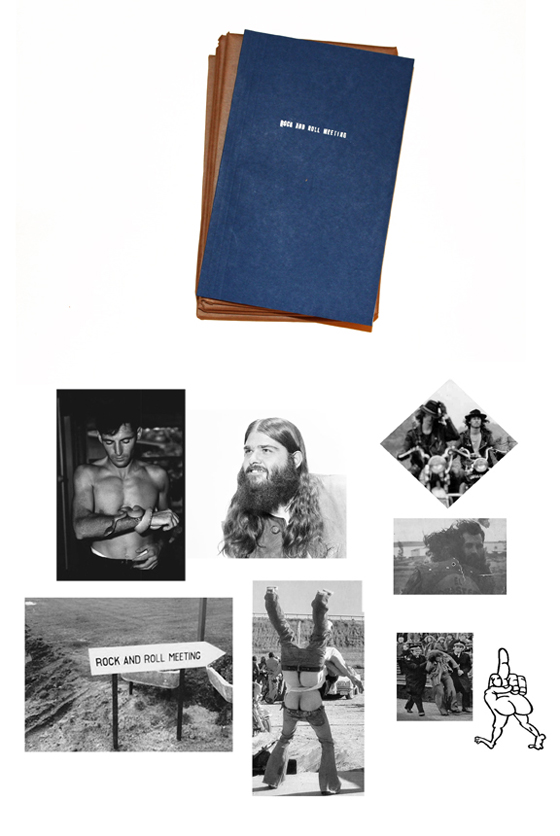 March 2015
01 MAGAZINE PREVIEWS "ROCK AND ROLL MEETING"
Art & Lifestyle magazine 01 previews "Rock And Roll Meeting" exhibition held at Publication Studio Vancouver. The Exhibition continues until April 18th.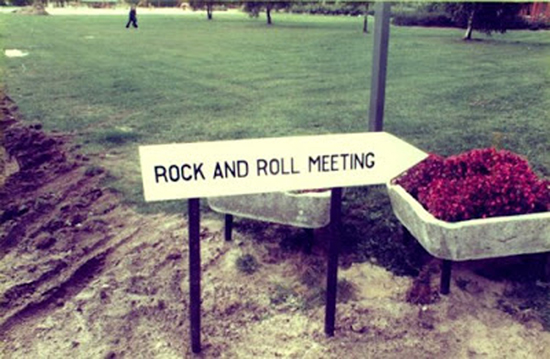 NOTHIN' LEFT TO LOSE | DYNAMO ARTS ASSOCIATION
Exibition of new installation based works at Dynamo Arts Association
March 21- April 4 in Vancouver BC.
February 2015
ROCK AND ROLL MEETING | PUBLICATION STUDIO VANCOUVER
Selected prints from its archive of published material and ephemera at Publication Studio Vancouver February 28 - April 18, 2015.
The exhibition coincides with the release of the book "Rock And Meeting" published and distributed by PSV.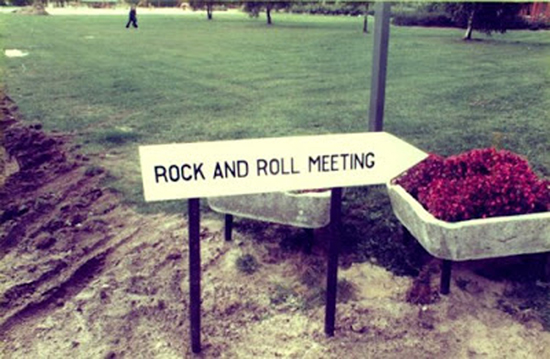 December 2014
BORN A BAD SEED CLOTHING
ASL collaborated with clothing company Born A Bad Seed to produce a limited edition ASL report.

The Only Losers Left Alive Report is available for a limited time with orders of Bad Seed Clothing.
For mote information please visit www.bornabadseed.com
November 2014
FEATURE IN PORK # 17
interview in the latest issue of Pork Magazine, Issue #17
"...10 point program for low life living..."
For more information and/or to obtain a copy visit Pork Magazine
June 2014
TRANSGRESSOR MAGAZINE
ASL Feature in issue 4 of Transgressor Magazine.
"A Study In Personal Expansion" is a 1:30 minute video created specifically for Transgressor's ongoing "Guided Mediation" Series.
Click here to view the feature
April 2014
MAXIMUM ROCKNROLL
ASL featured on Maximum Rocknroll.
Click here to read the full interview
"Keeping it old school in a strange world..."
January 2014
ICONS SHOW
The ICONS Show happening January 26th, 11-5PM
at the Biltmore Cabaret in Vancouver BC.
ASL will be presenting its "Research Indoctrination Station" that will include images, videos and printed materials.
October 2013
EXHIBIT AT THE AMOK EXPO
The AMOK Expo held
October 18 - 20, 2013 at PIKAIA in Antwerp Belgium.
ASL will be presenting a large scale projection/installation derived from the findings of the Research Blog.
May 2013
LAUNCHES ENLIGHTENMENT PROGRAM
.
The Enlightenment Program is designed to continue the spread of outsider knowledge and discourse.
Steeped in the philosophy, slogans, chants, and declaration, the Enlightenment Program will aim to provide you with the knowledge and wisdom you need to begin your journey.
April 2013
PORK MAGAZINE
American weirdo lifestyle magazine PORK published an article on ASL in its newest issue. Read the article and Issue 10 of PORK here
February 2013
HEAD FULL OF SNAKES PUBLISHED CUSTOM MACHINES REPORT

Australian/New Zealand Motorcycle Magazine Head Full Of Snakes has printed an entire ASL special report within the pages of its newest issue. "Custom Machines" report can be found printed and bound in issue 2 of H.F.O.S.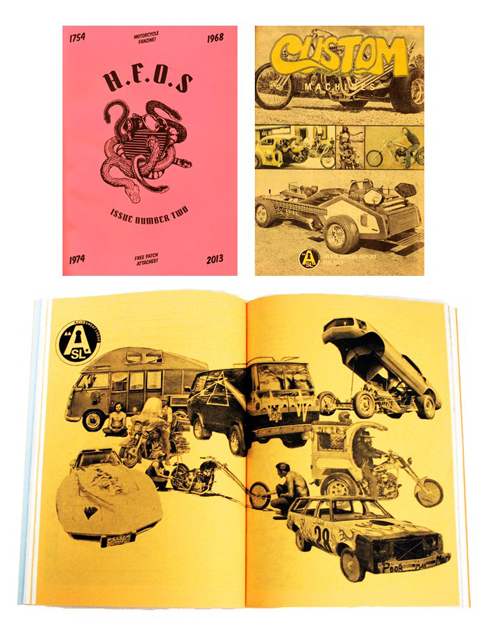 January 2013
PORK MAGAZINE MENTIONS REPORTS

Weirdo Magazine Pork mentions reports on their website blog:

Got a radical package from our brethren in Vancouver, BC:"
December 2012
CUSTOM TANK ART EXHIBITION
Collaboration with Triple Six Crew and Dirt Poor Industries to be one of the sponsors of a custom motorcycle tank art gallery exhibition in Columbus Ohio.
Selected printed materials were made available at the opening.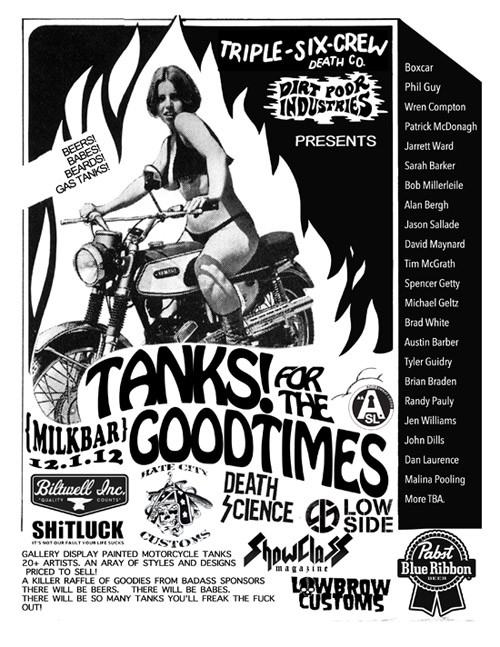 September 2012
VICE MAGAZINE FEATURE
Vice magazine feature
The feature includes a selection of images from the Research Blog.

" the coolest website in the world, if you're into burnouts, biker dudes, metal bands, and the topless women who love them."
click here to view the article:
ASL Give Us The Goods

May 2012
SHOW CLASS
collaboration with Biker Lifestyle Magazine Show Class to create a series of original art which is featured in issue 06 of the magazine. Comprised of re-imaged, re-worked and collaged materials from the ASL research archive and produced in accordance with the mandate and philosophy. Issue 06 is available direct from the publisher and through distributors worldwide.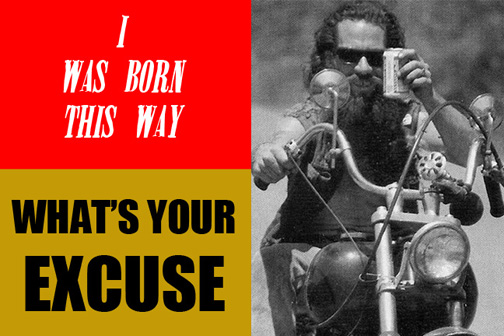 January 2012
REFERENCE COUNCIL CAPSULE BERLIN WRITE UP
Independent online Men's Magazine The Reference Council has featured the ASL posters created for the Capsule Berlin show on their website. Click here to read the article and view the posters.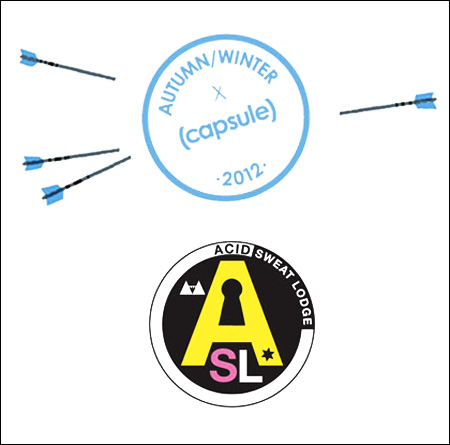 BLACKLODGES - CAPSULE BERLIN
collaboration with Hamburg creative agency Blacklodges to create a series of limited edition posters which will be featured at the Capsule show taking place
January 19 -20th in Berlin Germany.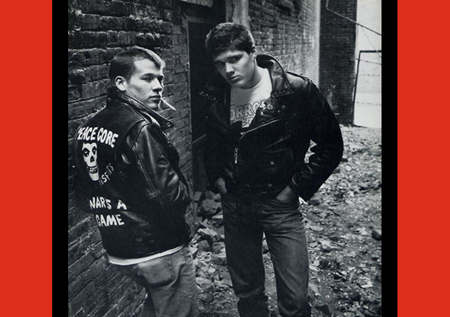 December 2011
WORKIN' NIGHTS PLAYLIST
ASL collaborated with Brooklyn NY based Workin' Nights to produce a featured
playlist for their ongoing playlist series. Click here to listen to and download the mix.
November 2011

01 MAGAZINE FEATURE
Arts & Lifestyle magazine 01 featured ASL in its current issue "Documented"
click here to view the article.

October 2011
5 MINUTES
Senior Members of The ASL answer questions for online Men's Magazine
The Reference Council. Click here to read the interview.


August 2011
BROTOWN EXHIBITION
ASL is collaborating with Interurban Gallery, Storyboard Label, and 01 Magazine to present an exhibition of its Research and Findings.
For the first time ASL. will create a series of "Research Pavilions" which highlight several of their ongoing research topics.
July 2011
CITED AS IN HARPER'S BAZAAR
Fashion Insider Giles Deacon cites ASL as inspiration in his interview in Harper's Bazaar. Read The interview here
ANTENNA MAGAZINE POSTS RESEARCH BLOG
Lifestyle magazine Antenna mentions ASL on their magazine's blog:
"Anyone who appreciates a raw look into a different time, place and culture should know about the Acid Sweat Lodge Research Blog."
Read the full post here
REFERENCE COUNCIL RECOMMENDS ASL PLAYLISTS
Independent online Men's Magazine The Reference Council recommends ASL
Playlist and Research Blog to its readers stating:
" one of the best blogs I have known in the past 4-5 years,
I mean hands down. I could spend all day on it..."
March 2011
FEATURED IN COLOR MAGAZINE 9.1
ASL is featured in the new issue of skateboard/lifestyle magazine COLOR.
Check out COLOR's website for more information.
November 2010
QUALITY PEOPLES RECOMMENDS ASL WEEKLY REPORTS
Lifestyle Brand Quality Peoples recommended ASL Weekly Reports on their blog recently:
"Great images collected and displayed for ongoing research ..."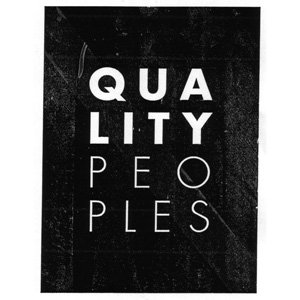 01 MAGAZINE MIXTAPE #12
ASL collaborated with arts and lifestyle magazine 01 to create a featured mixtape for their ongoing mixtape series. The mix contains tracks selected from the ASL. music archive.
click here to view the track listings and download the mixape.


August 2010
Dazeddigital.com INTERVIEW FRENCH BAND LOGO
Quirky Paris based electronic duo Logo cite ASL as their favorite website in an interview with dazeddigital.com.


May 2010
01 MAGAZINE: BLOG ON BLOG
Arts and Lifestyle Magazine 01 has featured ASL in its continuing blog feature "Blog on Blog".
"Add this amazing collaborative image/research blog to your RSS feed and you won't regret it. Curated with care by Vancouver based Liam Hogan and Kevin Romaniuk."
May 2010
GQ MAGAZINE: 20 INFLUENTIAL BLOGS
The ASL Research Blog was included in GQ magazine Frances article
"20 Influential Blogs"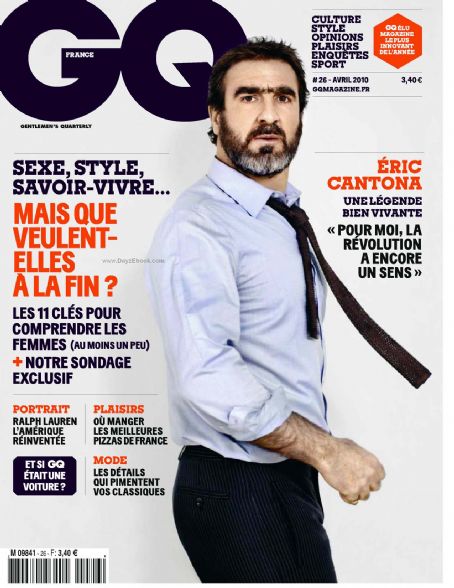 March 2010,
PLATFORM MAGAZINE INTERVIEW
U.K. based online lifestyle magazine interviewed and featured A.S.L.
Click here to read the full article.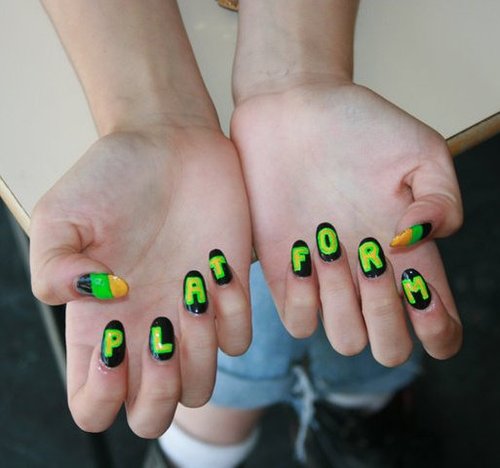 March 2010,
ASL EXHIBITION AT SURFACE TO AIR PARIS
The ASL is pleased to announce that it has collaborated with french creative agency "Surface to Air" to produce an exhibition of ASL research findings to launch their Flagship boutique in Paris.
Surface to Air wrote:
"This Canadian blog stands as a visual research project and lists the most random, hilarious, scary and sometimes beautiful pictures of the 70-80's era. Labeled under Brotown, Control the animals, Goons, Nudity, Intimidation, Explosion, Worships, etc. the photos are an amazing source of inspiration. We decided to join forces and will dedicate our store's gallery space to our favorite visuals from March 5th."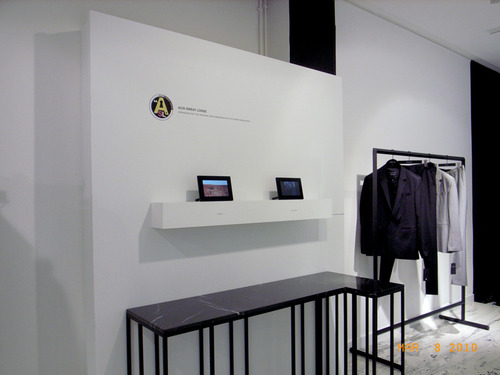 January 2010
REDBULL 381 PROJECTS TORONTO
Quarterly Reports are available at the Redbull 381 Projects Gallery in downtown Toronto. The Reports were printed and distributed to accompany the "Happy Accidents" exhibition currently show at the gallery.
May 2009

ASL CITED IN DOSSIER JOURNAL
NYC based photographer and artist Peter Sutherland cites ASL as
"one of his favorite blogs" in Dossier Journal. Click here to read the interview.